Strontium HAWK SSD 240GB SATA III Solid State Drive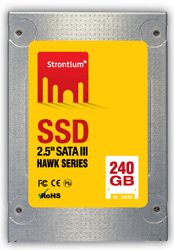 Strontium HAWK SSD 240GB SATA III Solid State Drive
HAWK 240GB SSD SATA III Build with 19nm MLC NAND Flash for Fast Performance, Suitable for Ultrabooks, Notebooks, Desktops and Industrial PCs, Up to 534 Read, 482 Write Speed (MB/sec) with Random 4K Write Performance of 35,000 IOPS (MAX)
Availability: Phased Out

Pay only P 847 a Month for 12 months.
Or pay only P 1,604 a Month for 6 months.
Installment promo is available for locally issued credit cards
Card holder must transact inside an Asianic store to avail of the installment
Features
Strontium HAWK Solid State Drive is the ultimate solution in taking your computer system to the next level. Equipped with 19nm Multi-Level Cell (MLC) NAND Flash for fast performance, our SSD ensures outstanding sequential read/write speeds and is powered by a backwards-compatible with SATA Revision 3.1 (6Gb/s) interface.
Speed up your computer in your home office
Increase your computer storage space for your work files
Work on your videos and photos with higher speed and reliability
Expand your computer storage capacity for your editing softwares
Experience zero lag when running multiple audio applications
Heighten your gaming experience with shorter boot times and  extra responsiveness
SSD Form Factor: 2.5" for portable computer need
19nm MLC NAND Flash for Fast Performance
Connector: 2.5" Standard SATA

MLC NAND Flash for Fast Performance

Sequential Performance (256KB, MAX)

       Read: 534 MB/s (MAX)
       Write: 482 MB/s (MAX)

Random Performance (4KB, MAX):

       Read: 90,000 IOPS
       Write: 35,000 IOPS

Supports SATA I/ II/ III Interface
TRIM support (O/S support required)
High Compatibility with MBP series
Mean Time Between Failure (MBTF): 1.5M
Bit Error Rate (BER): 1 error in 1015 bits transferred
Power Consumption

       Active: 0.82W (Typ.)
       Idle: 0.26W (Typ.)

Voltage: 5.0V±5%
Temperature Range Operating, (Storage): 0°C to 70°C (-55°C to 95°C)
1 year Strontium warranty
Available Capacities: 120GB and 240GB
Dimension : 100 x 69.85 x 7 mm
Weight: Nearly 48g